Wreck O'lections
Poetry, illustrated by Alastair Johnston.
Collaborations between Darrell Gray & Alastair Johnston with Guessed Appearances by Anselm Hollo & Allan Kornblum.
"Poor man, he used to say, the English is a funny language. You say chicken and then you say kitchen and I never know which it is."
— William Carlos Williams
Although 'officially' diagnosed as an agoraphobic, Darrell Gray did venture forth on occasion. In August 1978 he invited me along on what he described as a poetry reading tour to the Midwest. We set off on a hippie bus ride along Interstate 80 and landed on the unprepared but gracious Kornblums in West Branch, Iowa. They were already entertaining a Finnish poet of repute and his lady. For a couple of weeks these collaborators circled the typewriter nightly, talking, drinking, and listening to old Buddy Holly records. Surveying the accrued manuscript afterwards, the Finn remarked: "You could edit them down and make them fairly spectacular."
I have added a couple of other collabs written at other times in Berkeley — including a posthumous poem, employing a word deck we concocted of our buzz words — along with pieces written on the trip by Mr Gray or myself solo. The Babel-flux experiment was too unwieldy to print in full: the section included was typed by DLG while the rest of us read aloud from random books.
"Darrell lived and breathed poetry. To be around him was to be involved in an ongoing collaboration. If this slight work recaptures some of his spirit, I trust the reader will finds that excuse enough for its existence."
— Afterword by AMJ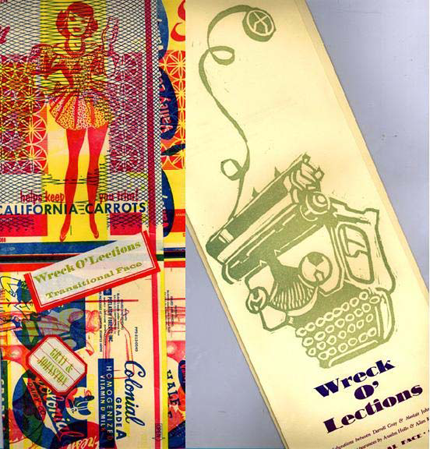 Authors: Darrell Gray and Alastair Johnston
Year: 1987
Pages: 20, loose in awkward folder
Paperback: $100