About Us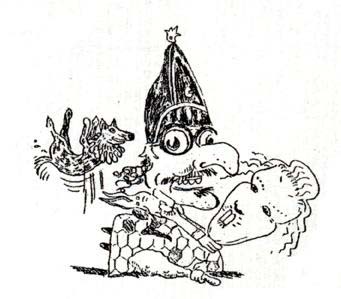 Poltroon Press was founded April 1, 1975 by Frances Butler and Alastair Johnston in Berkeley, California. Johnston's background was in writing and typography; he had apprenticed in commercial as well as fine press printshops. Butler was an artist working in academia whose star was rising in the world of textile design, engineered clothing and running yardage which she manufactured at Goodstuffs in Emeryville, California. They collaborated on several explorations of text and image which were forerunners of what became known in the following decades as "Artists' Books."
Butler's CONFRACTI MUNDI RUDERA confused the art world but quickly went out of print as dealers snapped up the copies. Johnston experimented with text and format in two modest works of concrete poetry: CAFE CHARIVARI CHARLATAN CHROM and A PARTIAL PRIMER FOR PEDESTRIANS. They began a publishing program with three books by English poet Tom Raworth, LOGBOOK, illustrated by Frances Butler (featured in the Grolier Club's "Seventy for the Seventies" show), THE MASK (Poltroon Modern Poets, volume 1) and NICHT WAHR, ROSIE? with cover calligraphy by Arne Wolf, which won the Award of Excellence in the AIGA "Just Type" Show. Other works soon followed by poets such as Darrell Gray, Tom Clark, Larry Fagin, Robert Gregory and Philip Whalen.
With an unerring eye for great writing, Poltroon published a short story by Lucia Berlin, "Legacy," in 1983. They followed this with her collection SAFE & SOUND and, like they say, the rest is history. As of this writing, Berlin's short stories have been translated into 7 or 8 languages and won every literary prize going, not to mention half a dozen rave reviews in the New York Times in 2016. In 1999 Poltroon published the debut of Private Eye August Riordan in Mark Coggins' novel THE IMMORTAL GAME. This book went through three printings and won several awards in the world of detective fiction. In 2002 the sequel, VULTURE CAPITAL, appeared. The Riordan series is now up to six volumes.
In the field of graphic design, Poltroon published a monograph on the posters of Marc Treib, FABLES OF CONTENT, and BLUES & JAZZ LANDSCAPE IMPROVISATIONS, the first book by award-winning architect & urban planner Walter Hood. Butler's monograph, LIGHT & HEAVY LIGHT: Contemporary Shadow Use in the Visual Arts, accompanied an exhibit in five venues in 1985.
Johnston's interest in typography led him to translate an essay on the punchcutter Jacob Sabon by Jan Tschichold, and the only full-length study of Robert Granjon, the sixteenth-century French punchcutter, written by Hendrik D.L. Vervliet. Johnston has also compiled & annotated three bibliographies of important San Francisco Bay Area literary small presses: AUERHAHN, WHITE RABBIT & ZEPHYROUS IMAGE. His book ALPHABETS TO ORDER: The Literature of Nineteenth-century Typefounders' Specimens was published by The British Library in association with Oak Knoll books. In 2009 Oak Knoll published a new edition of William Loy's NINETEENTH-CENTURY AMERICAN DESIGNERS & ENGRAVERS OF TYPE. This book, which has an introduction & design by Johnston, was the result of a long collaboration with type historian Stephen O. Saxe who provided samples of every type mentioned by Loy (and many more) to illustrate the book in the way Loy had intended when he wrote it a century ago. In 2010 Johnston assembled TYPOGRAPHICAL TOURISTS: Tales of Tramping Printers, an anthology of writing about the itinerant erudite printers of the end of the Nineteenth century. Johnston's decade of research into the lives and work of Richard Austin, the English type-cutter, and his sons, led to the publication of TRANSITIONAL FACES in 2013.
What the Critics Say
"Alastair Johnston and Frances Butler, who provoke each other to … pyrotechnic abandon, conceal a real sense of the outer edge potential of letterpress."
–Nicolas Barker in The Book Collector, London, Summer 1990
"Butler and Johnston know their history of letterforms and graphic design, among other less fussy things, but will be damned if they will ape it in their own work. All the sacred cows are grist for their mill –however; there is no rancorous nose-thumbing here, no cranky self-indulgence, just some good, not-so-clean Rabelasian fun."
— Fine Print, Autumn 1990
"Frances Butler's Logbook … crafted at Berkeley's Poltroon Press with all the care of a fine wine, it's nevertheless a study in recklessness."
–Jonathon Keats, Culture, San Francisco, Summer 1998
"Butler the visionary can provide her consultation and discernment while Johnston can make type do anything he wants it to do. They are dedicated to innovation, a fragile thing to hang on to in the world of bibliophily."
— Book Club of California Quarterly Newsletter, Autumn 1989
Contact Us
Contact Poltroon Press by email at editor[at]poltroonpress[dot]com
or by snail mail at:
Poltroon Press
2315 Carleton Street
Berkeley, CA 94704-3316
If you want multiple copies of one title we will be happy to extend a trade discount to you, whether you are a book dealer or not.