Dead Poets
Ever eager to be photographed in the company of my favourite writers I have found the most compliant are posthumous. As a little diversion I present here my slow-decaying self in the company of some of my literary heroes. (Click on a picture for a larger view…)
Bram Stoker's Count Dracula arrived in England in the small coastal resort of Whitby, Yorkshire. Disguised as a black dog he raced up the steps to St Hilda's Abbey where he encountered Harker's fiancée Mina Murray. He was said to be buried in St Mary's Churchyard where I found an empty stone coffin and couldn't resist trying it on for size. Of course Dracula is undead so is not buried anywhere, and besides, he's fictional.
Dracula immortal; Johnston 30.
---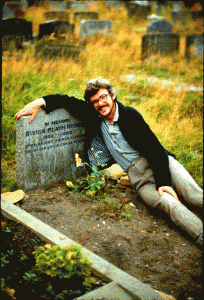 You see me here snuggling up to Sylvia Plath in Hebden Bridge, Yorkshire (photo by the late Asa Benveniste, poet and printer, who now lies near her). She said, "Eternity bores me. I never wanted it."
Plath 33; Johnston 32.
---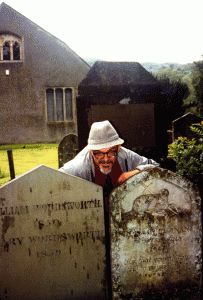 At right I am caught in the company of the Wordsworths in Grasmere. William Wordworth wrote "An Extempore Effusion upon the Death of James Hogg":
"The mighty Minstrel breathes no longer,
'Mid mouldering ruins low he lies."
William Wordsworth 80, Johnston 47.
---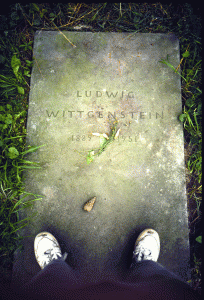 The next pic finds me visiting Ludwig Wittgenstein who said "Death is not an event in life: we do not live to experience death. If we take eternity to mean not infinite temporal duration but timelessness, then eternal life belongs to those who live in the present."
I was guided to Wittgenstein's tomb in Cambridge by Tom Raworth and the late Barry Hall, partners in Goliard Press in London in the 1960s. They provided the floral tribute. My presence is only apparent in my white sneakers as I was obliged to stand on his slab to get a good photograph.
Wittgenstein: Timeless;
White sneakers: Toast
---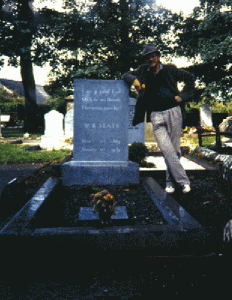 Right: W.B. Yeats died in France in 1939 and was later disinterred and moved to his hometown of Sligo. He wrote his own epitaph which reads:
"Cast a cold eye
On life, on death
Horseman, pass by!"
(I think he meant "Norseman.")
Yeats 74; Johnston 35
---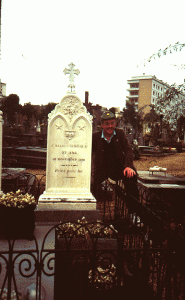 Right: With Arthur Rimbaud, who said righteously,
"It is found again. What? Eternity."
Rimbaud 37, Johnston still 35
---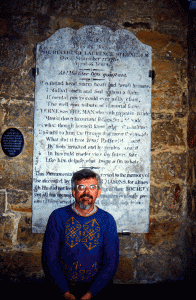 Right: With Lawrence Sterne's headstone from his own parish church in Coxwold, Yorkshire. However he was originally buried in London where his body was stolen by bodysnatchers but was later recognised and dumped and no one is sure if they have the correct remains. Sterne 55, Johnston 44
Alas, poor Yorick!
---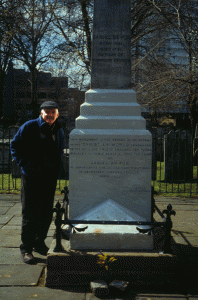 Right: Bunhill Fields, London, is a dissenter's graveyard, so includes the Wesleys and John Bunyan (with whom I wouldn't be caught dead!). DeFoe is one of the most prominent residents. Later that day I took a bus to Stoke Newington, a remote neighbourhood in this vast city, to visit friends and where I alighted there was a pub called the Daniel DeFoe, and across the street, one of those blue plaques identifying the home where he lived. Small world!
DeFoe said:
Wherever God erects a house of prayer,
The Devil always builds a chapel there;
And 'twill be found, upon examination,
The latter has the largest congregation.
(from The True-Born Englishman, 1701)
DD:71; AJ:53
---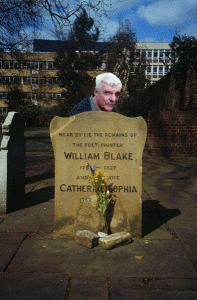 Right: On my trip to Bunhill Fields, in April, 2004, I called on the Blakes. Actually they were buried in separate parts of the cemetery, William in a pauper's grave, so the exact location of his remains is uncertain. Blake 70, Johnston 53, and counting.
THE FLY is a gem from Blake's SONGS OF EXPERIENCE:
Little Fly,
Thy summer's play
My thoughtless hand
Has brushed away.
Am not I
A fly like thee?
Or art not thou
A man like me?
For I dance
And drink and sing,
Till some blind hand
Shall brush my wing.
If thought is life
And strength and breath,
And the want
Of thought is death,
Then am I
A happy fly,
If I live
Or if I die.