Where You're At: Poetics & Visual Art
Kevin Power's landmark series of interviews with contemporary American poets was conducted between 1974 and 1976 while he was working on his thesis at the Sorbonne in Paris on the relation between painting and poetics in post-War American writing. With a Fellowship from the American Council of Learned Societies he was able to come to Berkeley (where I met him) and also spend time at the State University of New York in Buffalo. Jerome Rothenberg, Robert Bly, Robert Creeley, Michael McClure, Robert Duncan, George & Mary Oppen, Bill Berkson, and David Meltzer are the interviewees; this book presents a wide-ranging picture of what was going on in the minds of these great writers in the mid-70s and diverges from the usual personal narrative of literary interviews. From Jerry Rothenberg's work on "deep image" to Robert Bly's ideas about myth, to the Oppens' Objectivist background, we are drawn into a world of brilliant repartee with astounding anecdotes. McClure, Duncan, Creeley, and Meltzer all had close relationships with the artists of their generation, and we get a fascinating account of their insights into visual as well as verbal connections in these relations. These conversation sparkle and flash. Although we had discussed publishing it in 1979, after overcoming some legal obstacles with one author's estate we were finally able to issue it in 2011 and it only improved with age. It is a monumental work in the relation of modern American poetry and painting.
Kevin Power was born in Gravesend, Kent, UK in 1944 and from 1981 held the Chair of American Literature at the University of Alicante in Spain. He was also Deputy Director of the Reina Sofia Museum in Madrid. He worked as a critic, essayist, poet, curator and translator until his death in August 2013 of a stroke at his cabin in Santander, Spain.
Cover painting by John Altoon, 1960.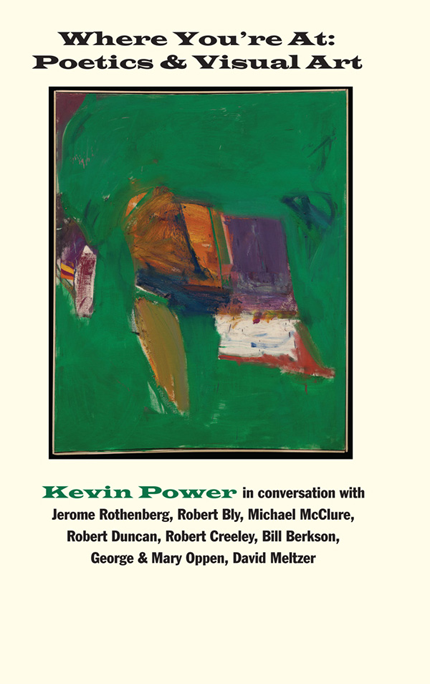 Author: Kevin Power
Year: 2011
Pages: 210
Paperback: OUT OF PRINT