Simply to See
Poltroon Modern Poets vol 9; coptic binding. Translated by Art Beck.
In 2013 Art Beck won the North California Book Award for Translation for his Opera Omnia of Luxorius, subtitled Duet for Sitar and Trombone, and published by  Seismicity Editions at the Otis College of Art & Design in Los Angeles. Once again we are pleased at our own prescience for recognizing Beck's talents when we agreed to publish this edition back in 1990.
The Latin poet Luxorius was literally lost for a thousand years. If he existed — and there is often some question about this — he lived in North Africa in the 6th Century CE, at the time of the decline of the Roman Empire. We were thrilled by Art's adaptations of the Latin poetry into vibrant bawdy contemporary English and also excited by the possibility of using a Coptic binding (the first Western-style binding, it too originated in North Africa, around the 4th century) that would be appropriate to the text. To evoke Vandal-ruled North Africa in the fourth century I used a sand-colored cover and spray painted it with Vandalic motifs. The title page has a reduction linoleum block also intended to suggest the world of Luxorius.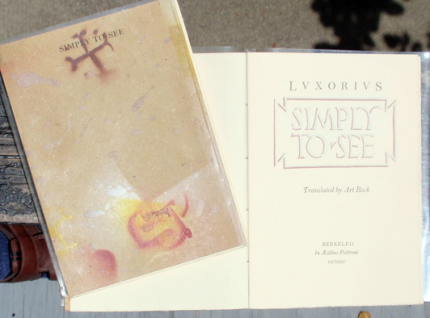 Author: Luxorius
Year: 1990
Paperback: $125