Safe & Sound
Short stories, illustrated by Frances Butler. First edition.
Paperback, 104 pages. Cover, calligraphy and illustration by Frances Butler. Typography by Alastair Johnston. Typeset by Johnston and Berlin in Linotype Electra.
Lucia Berlin's book comprises a dozen short stories by a modern American author who is often compared to Eudora Welty (Short Story Review), or Raymond Carver (by Keith Abbott in The Monthly). Gloria Frym, writing in American Book Review, said, "In a moment of partisan schools of literature, Lucia Berlin's stories stand outside. Berlin works in a class of one, deriving certain influences from the short proses of Fielding Dawson, the interiors of Chekhov, the idiosyncratic dialects of Eudora Welty, the realism of Grace Paley.
"Berlin's is a fiction that functions by narrative but that is virtually without conventional plot. There is often no rise towards a pinnacle of reckoning, but a more realistic diffused narrative that flows rather than builds. … Just when you expect the writing to rush toward the moment and heighten it, Berlin underplays it, surrounds it and lets the moment reveal itself."
Berlin had just emerged as a writer of short fiction with Angel's Laundromat from Turtle Island (1981) when I asked her for a story and received "Legacy," a gem about helping her crazy dentist grandfather pull out his own teeth. After the appearance of her second collection, Phantom Pain, from Tombouctou in 1985, I again asked her for work and found she was in a period of great writing activity. We printed two hundred copies of her stories by letterpress and tipped in illustrations by Frances. Lucia was sorry that the book was so expensive ($40) and her many fans would not be able to buy it, so she persuaded us to do an offset edition. We made page proofs from the Linotype slugs which had already been printed, giving the proofs the "lived-in" look of those Knopf books from the thirties.
Update: April 2016. We are thrilled to learn that Lucia has been discovered and her work, reissued by FSG in New York and European houses (in translation), had literally exploded on the literary landscape. This is a vindication of all the little presses, like Poltroon, who believe in their authors, but who often do not get discovered until decades after their death (In Lucia's case only one decade). The new book, titled Manual for Cleaning Women includes about half of the stories in Safe & Sound, but we are sure fans of her work will want this as a first edition, and also to read the other pieces not included in the new compilation.
Good writers will eventually be discovered and just as in the time of Blake, Coleridge and Wordsworth, the small presses are where these writers start out. Poltroon Press published two books by her: Legacy in 1983 (now out of print)  and Safe & Sound in 1989. The publication of Manual for Cleaning Women in fall 2015 (as well as translated editions in Europe) has spurred her to international prominence. She made every "best books of the year" list we saw, even winning for "best non-Catalan book" in Catalonia in 2016. There are a dozen stories in Safe & Sound, and seven of them, including the novella Andado (subtitled "A Gothic Romance"), are not included in the new FSG collection. It is still in print at $20, so you don't have to pay the hundreds of $$ some clowns are asking on Amazon. She only wrote 75 stories, so don't rush through them.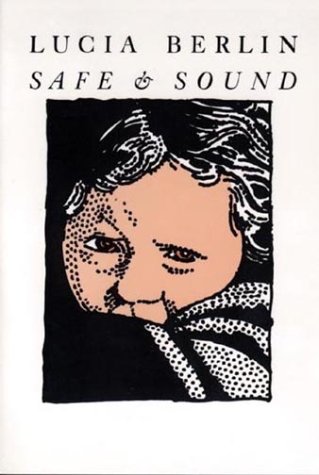 Author: Lucia Berlin
Illustrator: Frances Butler
Pages: vi + 98
ISBN: 0-918395-10-0
Trade paperback: $20
US orders only. Overseas buyers please contact us for shipping quote.