Logbook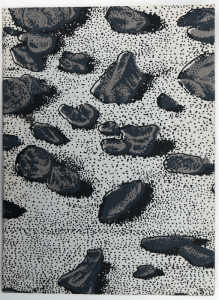 Before the term "graphic novel" was popularized, Frances Butler, who had made her name in textile design, created a visual accompaniment to Tom Raworth's prose text Logbook which overflowed the text and the page edges, sweeping from page to page in a brilliant visual rush of startling juxtapositions and crisp original imagery. Frances' inspirations were ephemera, things she had photographed or remembered, Japanese graphics and European advertising from the 1930s. Logbook, published in 1976, was one of the earliest works of Poltroon Press and also one of the most celebrated. It was selected by the Grolier Club for the "Seventy for the Seventies" show which featured books from all genres produced in that decade. It was reprinted in its entirety in IDEA, a Tokyo based design magazine.
Kit Robinson (in Dictionary of Literary Biography, vol 2 M-Z, Gale Research) describes the work:
"The sea-voyage theme, as in the nineteenth-century adventure novels of Jules Verne or Robert Louis Stevenson, suggests its obverse, the cozy, bourgeois domesticity by which the individual is secured from imagination's perilous seas (a boat is a room), but the violent swiveling and physical rupture of Raworth's prose, with the explosion of the image bank depicted in Frances Butler's illustrations, signals the obsolescence of western cultural icons, a space where, by a kind of Doppler effect, objects only get further away, a world in which 'all books are dead & amp;we live where the edges overlap.'"
The original edition was 60 copies in color by letterpress on Arches paper, bound in cloth, signed on a tipped-in postcard; this facsimile edition was produced by offset-lithography. People often ask us about it, and recently we found a box of unbound copies which we have now bound up to make available once again. $30 in card covers with French-fold while stock lasts.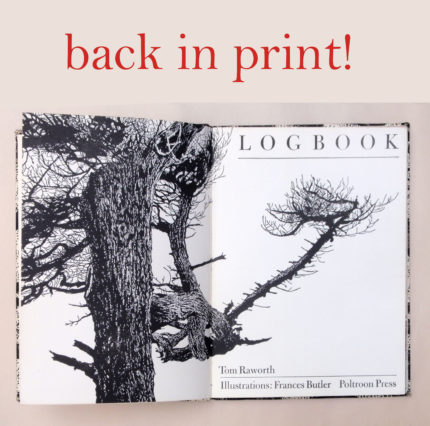 Author: Tom Raworth
Illustrator: Frances Butler
Year: 1976
Types: Bulmer
Paperback: $30