Logbook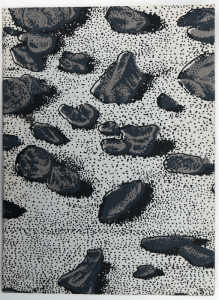 When we met Tom Raworth in 1975 we asked him for a manuscript. He gave us a spring-back binder containing half a dozen works and we wanted to print all of them. Eventually we did publish three of those works: The Mask (as Poltroon Modern Poets volume 1, 1976), Logbook, and Nicht Wahr, Rosie?
Kit Robinson (in Dictionary of Literary Biography, vol 2 M-Z, Gale Research) describes the work:
The sea-voyage theme, as in the nineteenth-century adventure novels of Jules Verne or Robert Louis Stevenson, suggests its obverse, the cozy, bourgeois domesticity by which the individual is secured from imagination's perilous seas (a boat is a room), but the violent swiveling and physical rupture of Raworth's prose, with the explosion of the image bank depicted in Frances Butler's illustrations, signals the obsolescence of western cultural icons, a space where, by a kind of Doppler effect, objects only get further away, a world in which "all books are dead & we live where the edges overlap."
Illustrated by Frances Butler. The original edition was 60 copies in color by letterpress on Arches paper, bound in cloth, signed on a tipped-in postcard; this facsimile edition was produced by offset-lithography, and bound in silkscreened paper wrappers. One of our most celebrated titles, shown in the Grolier Club's "70 for the Seventies" Show, etc.