A Country of my Own – Lucia Berlin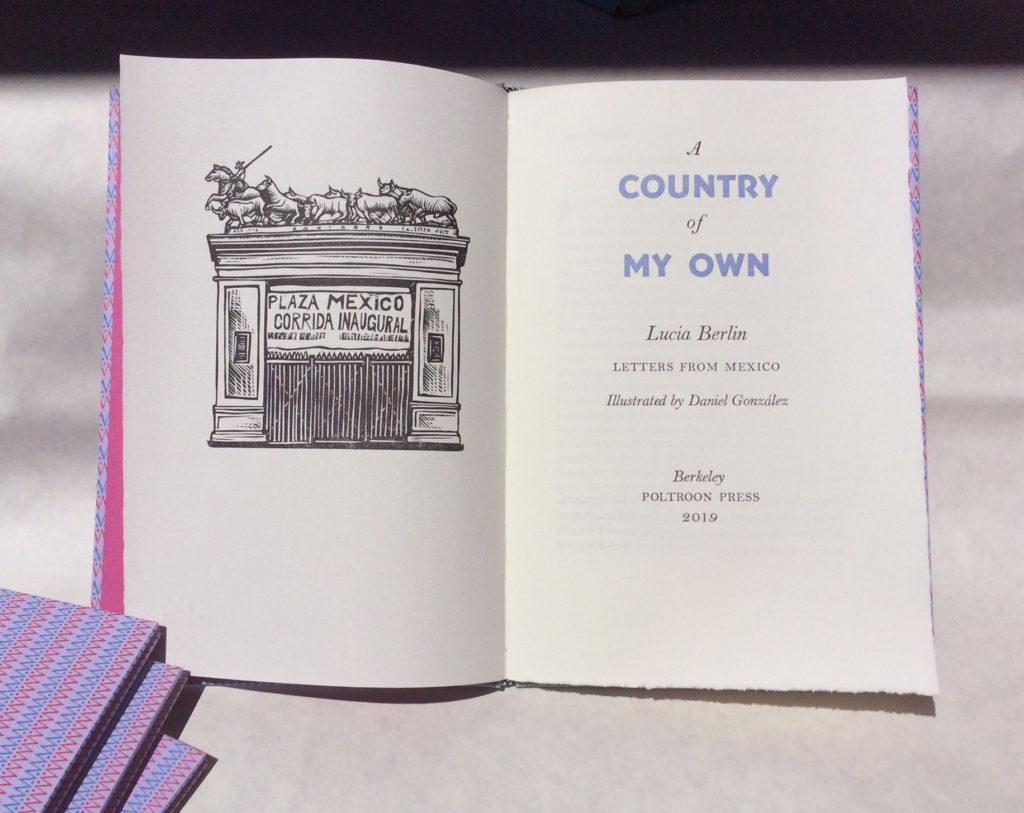 A COUNTRY OF MY OWN
by Lucia Berlin
illustrated by Daniel González
letterpress, 36 pages, 125 copies, $200
We have faith in our authors so were not surprised when Lucia Berlin broke out internationally as a major short story writer in 2015.
After our second book by Lucia — Safe & Sound, a collection of stories illustrated by Frances Butler — appeared, she received an offer from Black Sparrow and thenceforward published three collections with them: Home Sick, So Long and Where I Live Now, the first two of which collected previously published stories with new work. Before that there were three small press collections: Angel's Laundromat, Phantom Pain and Safe & Sound. In addition there were two chapbooks of a single story, A Manual for Cleaning Ladies (Zephyrus Image) and Legacy (Poltroon Press). So her bibliography holds only eight titles published in her lifetime and only 75 stories.
Now to add to the posthumous canon we have printed (with permission from her estate) a collection of letters she wrote from Mexico City between November 1991 and June 1992. For seven months Lucia was occupied with her dying sister and her nephew and nieces. Pretty much housebound, she was able to write some compelling stories. "Fool to cry," "Wait a minute" and "Pantéon de Dolores" (included in the first FSG collection) are vignettes from 1992, the same period covered in these letters. But she wrote in frustration that she couldn't really translate her life into her fiction: "… pissed because I'll Never be able to write about a lot of what I'm learning, or even about my family here. So I'm trying to make up characters, very difficult for me to do."
She was able to get out of the house on Sundays when she delighted in going to bullfights with her college-age niece.
"Gabriel Garcia Marquez writing for a soap opera, which everyone thinks scandalous. Not me, I think he's soap opera already, also if I ever got a grant that's the genre of my dreams. We see him at the bull fights a lot. He leers at Mercedes, puffs on cigar. I'm just thrilled to see a writer."
She talks about other writing — her own and what she's reading: "Oh, how I wish I were reading Cervantes with you guys. Pretty soon you'll come to the absolute saddest chapter in all literature. He's all alone in an inn and he suddenly notices, realizes, he has a hole in his sock. It is a horrible horrible awareness." She relishes the Spanish language "nice words: handcuffs – esposas (wives), booze – chupe (suck), to save, a seat, a cookie – guardar (guard it with your life.)" She comments on book groups: "I think they are a logical extension of Flaubert, whose goal was to write a beautiful book about nothing. It sounds like one of few groups I ever joined and liked 'The Drama Club', in third grade, which consisted of me getting permission to use the stage during recess. We would take turns standing on the stage and somebody else got to open the curtain."
She jokes and gossips and recalls other moments of her life: "I was once in love with Lou Lash, who drove a cement mixer. We met for lunch at Okie Joe's in Albuquerque, were just mooning into one another's eyes for ever so long… But he had forgotten to keep the truck running so the cement hardened and he got fired."
She also ends up in hospital and grim as the experience was, manages to write light-heartedly about it.
There are only 125 copies of the book, printed on Hahnemühle Ingres paper and bound in patterned paper over boards.
We are delighted to be involved with Angeleno artist Daniel González on this project. Check out his website at https://www.printgonzalez.com/