Typographical Tourists
Tales of Tramping Printers. Drawing on books, trade periodicals and newspaper accounts of erudite and disreputable traveling printers from the second half of the nineteenth century. With a bibliography.
The anthology, illustrated with cuts and type ornaments from the 1880s, includes "Journalism in Tennessee" by Mark Twain, "Wanted — A Printer," by Bret Harte, "B. Franklin, Deceased" by Bill Nye, "A Big, Phat Take" by D.T.B., "The Incense of Chicken" by Opie Read, "Greeley's Handwriting" by Hayden Carruth, and many other humorous & entertaining pieces.
In the late 1880s American founders began to print in-jokes about disreputable characters ("gay cats") in black "thousand-mile" shirts, out of date frock coats, worn shoes, and battered stovepipe hats, who would wander into small town print shops looking for work. These were worldly (& wordy) men who could set type swiftly and accurately, write an editorial, set up a poem from memory to fill a space, whittle a needed letter for a headline on the back of an old sort, make rollers, adjust the press — in short they could do any part of the work in a printing office. Their conversation was full of quotations from Shakespeare, the Bible and Horace Greeley. They could recite the poems of Eugene Field and indeed could tell stories of getting drunk with the author in St Jo. They'd met Bret Harte in Eureka and Mark Twain and Dan de Quille in Virginia City, Nevada, having walked across the entire length and breadth of the United States, even into Indian Territory, working in many shops along the way. Most were well-educated, many came from respectable families, but they all suffered from wanderlust & when it struck they would resign their position, collect their wages and hit the road. Some "of the orbital persuasion" might show up annually (if they didn't owe too many debts in boarding houses and saloons around town), others vanished and became the stuff of legend. Some drank, some were escaping heartbreak; one had been humiliated by his typographical errors, another had married a beautiful octoroon by mistake; some were army deserters, others were brave ex-soldiers who had been shell-shocked and couldn't get used to sleeping indoors. Whatever their background and circumstance, they populated the landscape in the era between the American Civil War and the coming of the Linotype machine in the 1890s.
There were also tramp printers in Europe. Tramping in England was well-established with a system of Union relief to help underemployed printers relocate. Some tramped to Paris to work on Galignani's Messenger. Some made it to South Africa, Australia, or New Zealand and, if there was no printing work, might become a gold prospector.
Reviews
"What we have here is an extremely colorful, often wildly amusing, ink-stained On the Road, with Johnston steering us through the world of printers with type in their blood but ants in their pants, compelled by personal demons to a precarious existence leavened by an adventurous, if impecunious, black-ink life rich in colorful anecdotes and stories. Johnston has performed a fine service by collecting them here in one place from diverse sources, known and unknown. It's a crazy-quilt history populated by drifters, wanderers, dreamers, vagrants, and transients, a movable type feast, accent on the movable, the don't-miss world of the vagabond printer."
— Stephen J. Gertz, Booktryst blog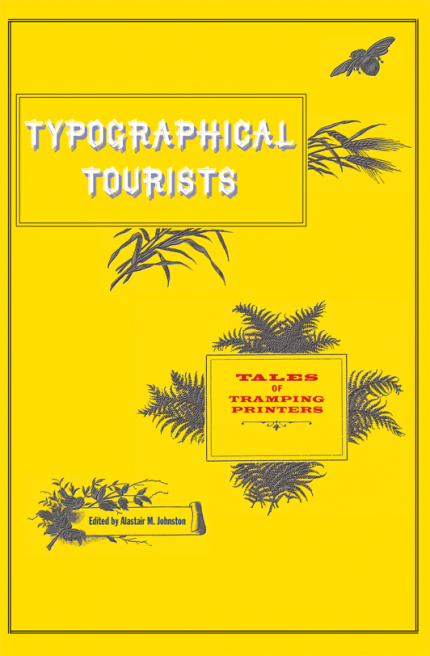 Editor: Alastair Johnston
Year: 2012
Pages: 178
Paperback: $20