The Immortal Game
When the world's most innovative computer chess software is stolen, wisecracking, jazz bass-playing PI August Riordan is hired to find it.
Sifting through a San Francisco peopled with bruising, ex-NFL henchmen, transvestite techno geeks, and alluring, drug-addicted dominatrices, Riordan has got his work cut out for him.
But with a smart-ass attitude like Riordan's, nothing is easy …
A darkly comic sojourn through a town unrecognizable from the Tony Bennett song and the Rice-a-Roni ads, The Immortal Game is a Shamus, Barry, and Independent Publisher (IPPY) award nominee.
Reviews
Selected by the San Francisco Chronicle, the Detroit Free Press and January Magazine as one of the top ten mysteries of the year.
Selected by mystery maven Otto Penzler as a "Penzler's Pick" for Amazon.com.
Nominated for a Shamus, Barry and Independent Publishers Award (IPPY) in the Mystery/Suspense/Thriller category.
"Smart, stylish, sexy and amusingly insouciant. It's a true find, a well-written and sophisticated addition to the heralded San Francisco private-detective story…a panoramic tour de force."
—San Francisco Chronicle
"Mark Coggins writes tight prose with a clean, unadorned style; he is a Hammett for the turn of the 21st century."
—Loren D. Estleman
"Gritty…seamy…very, very funny. [Coggins] has given the form fresh life."
—National Public Radio
"Here's a first novel that pays homage to Hammett, Chandler, and every wisecracking PI in the genre, and then some. It also introduces one of the most delightful characters to come along in some time: August Riordan, a jazz bass-playing PI who is cynical, irreverent, and a laugh a minute."
—Otto Penzler
"This small-press PI mystery proved such a success that its first printing quickly disappeared and became a collector's item… Coggins hauls us on a dark, hip journey into the grittier parts of San Francisco, with only an occasional appearance of the city we know from Rice-a-Roni ads…a superb new take on a classic mystery form."
—Detroit Free Press
"One of the best books of the year. It is truly a winner on many levels … Reminiscent of golden age detective novels, this book is a true gem."
—Deadly Pleasures
"The ride through the mean streets of San Francisco is a voyeur's delight."
—January Magazine
"I loved the book! It has great characters, a terrific plot and, of course, it is a great pleasure that chess is so integral to the story."
—Patrick Wolff, two-time US Chess Champion
"August Riordan takes the reader on a wisecracking, action-packed ramble through San Francisco's kinky sex milieux, including S/M and bondage emporia."
—Jazz Fiction: A History and Comprehensive Reader's Guide
"I couldn't put this book down. And it wasn't just the quick pace, clever plot, and even more clever wit—the writing is clean and Coggins's style has a familiar-yet-fresh feel."
—Suite101.com
"Coggins clearly recalls the old masters in his debut novel. Think of it as The Maltese Falcon played out at the end of the century. Short on the genre cliches that have become all too common today, Coggins' novel has all the power and wit that make a detective story into a great read."
—The Bookman's Week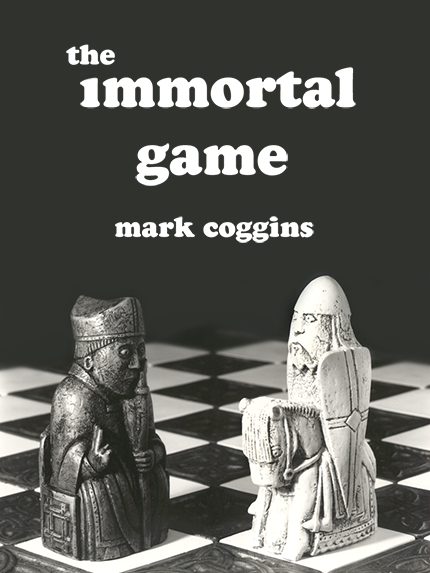 Author: Mark Coggins
Year: 1999
Signed First Edition Hardcover: $50